Dunwoody Mom and Dad crowned
Dunwoody Crier
November 16, 2005
By Kelly Conn
Move over Santa-Ms. Dunwoody Mom, Kristin Heneghan, and Mr. Dunwoody Dad, Dave Anderson, are sharing the spotlight in the Light Up Dunwoody 2005 Holiday
Parade.
After being nominated for the honors earlier this year, the Dunwoody Homeowners Association selected Heneghan and Anderson as the community's first "star" parents.
After their parade ride through downtown Dunwoody, the DHA will recognize
Heneghan and Anderson at Saturday's Light Up celebration.
"I just know there are a ton of moms and dads in the community who do so much," said Light up Dunwoody co-chairman Margot Cole, who thought of adding the honors to this year's holiday festivities. "I hope this is the beginning of a tradition of appreciating (parents) who volunteer their time in Dunwoody."
Heneghan, nominated by her friend Elizabeth Piper, said she thought her husband John was joking when he told her she had been named Ms. Dunwoody Mom. "I'm a little surprised, but it's a good surprise," said Heneghan, who at nine months pregnant with her third child, is keeping her fingers crossed that she'll be able to join in the parade. She'll be riding in a classic MG convertible. "If I'm going to be Ms. Dunwoody Mom, I might as well fit the part," she said.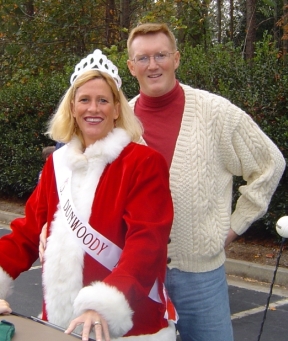 Heneghan also is mom to Riley, 6 a kindergartner at Chesnut Elementary School and Gavin, 4 who attends preschool at Kingswood United Methodist Church. She noted that like her own mom, she likes to do things for others, especially parents who are in need of a little alone time. Heneghan is the co-organizer of the monthly Parents Night Out at All Saints Catholic Church. She also baby-sits regularly and is known for making meals for anyone in need of a cooking reprieve. "(My friends) call it the Kristin Meals on Wheels," Heneghan joked.
In addition to her culinary duties, she recently participated in the Team Dunwoody Body Works / Dunwoody Divas efforts to raise money for the Breast Cancer 3 Day Walk. She has been team mom for Riley's T-ball team, and serves as room mom for both son's schools. On furlough from her job as a United Airlines flight attendant, Heneghan said she's grateful to have the opportunity to focus her time on her family. I totally love being a mom, and I thank John everyday (because I'm) able to stay home with (my kids)," she said.